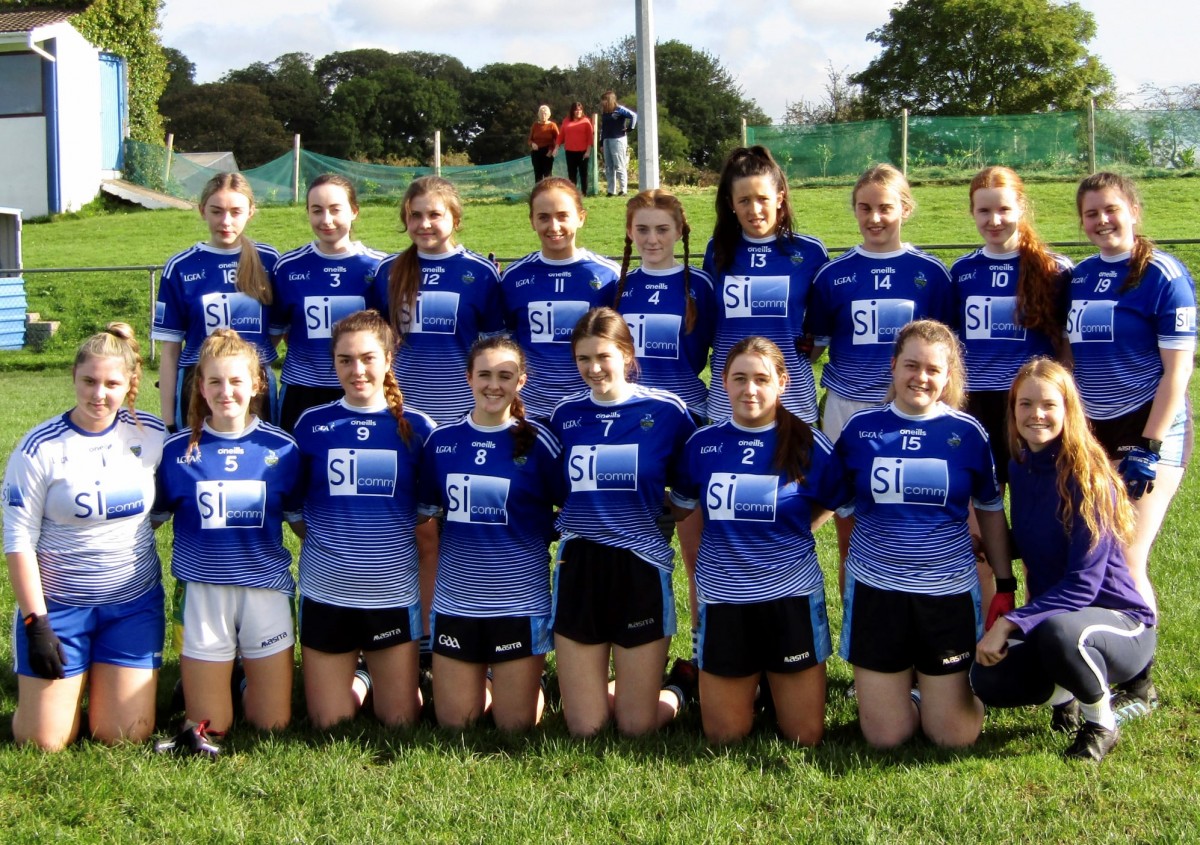 Laune Rangers 8-14, Listowel Emmets 1-5
Laune Rangers Senior Ladies will contest a home Semi Final in the County Junior A Championship, following a comprehensive victory over Listowel Emmets on Sunday afternoon in JP O'Sullivan Park.
With a large points difference deficit to make up to earn home advantage for next week, Rangers had to be ruthless in their attack, pushing on in the second half to extend what was already a handsome lead.  Listowel Emmets had 14 players at their disposal, while Rangers were without 6 players of their own and had 16 fit players togged out, and the game was played at 14 a side.
Laune Rangers had a bright start, forcing a few saves from the Emmets goalkeeper and were awarded three 45s in the opening minutes.  Nicole Moriarty opened the scoring with a point in the 4th minute, but Emmets went straight downfield from the resulting kickout and blasted the ball to the net for a goal.  Rangers soon regained the lead as Meadhbh Johnston was fouled in the square for a penalty, and Fodhla Houlihan made no mistake with the spot kick.  Nicole Moriarty saw her point nullified by a pointed free at the other end before Fodhla Houlihan found the net for a second time for Rangers.  Emmets continued to add scores with another point, but Rangers scored a third goal through Meadhbh Johnston to take a 3-2 to 1-2 lead into the first water break.
Ciara O'Brien pointed for Rangers before Meadhbh Johnston scored her second goal and added a point soon after.  Two points for the visitors were cancelled out by Johnston and Houlihan respectively to see the home side leading by 11 at the break.  Half Time Score:- Laune Rangers 4-6, Listowel Emmets 1-4.
Word filtered through at Half Time that MKL Gaels had defeated Abbeydorney, meaning Rangers now knew they had a chance to earn a home Semi Final but had to continue to stretch their lead.  Fodhla Houlihan added a point before Rachael Evans put a 5th goal on the scoreboard with a super shot.  Meadhbh Johnston, Fodhla Houlihan (2, 1 free), Ciara O'Brien and Laura Leslie added points before Listowel Emmets registered their first score of the half before the 2nd water break.
Kayleigh McGlashan, carrying an injury that prevented her from starting, went into goals for the final quarter allowing Maggie West outfield after a great effort between the sticks.  Fodhla Houlihan completed a hat-trick for her third goal, before Meadhbh Johnston added a point to her tally.  Houlihan added a pointed free before Rangers introduced Áine Nash Freeman onto the field for her Senior debut, as she joined her sister Aoife on the field.  Rangers hit the net twice more before the final whistle as Fodhla Houlihan scored both to bring her tally to 5-5.  Full Time Score:- Laune Rangers 8-14, Listowel Emmets 1-5.
The requirement of Laune Rangers put up a big score made for a ruthless performance by the home team, but the final score did no justice to Listowel Emmets who made Rangers earn every score.
Laune Rangers will host Abbeydorney next Sunday afternoon in the County Junior A Semi Final.
Laune Rangers:- Maggie West, Lucy O'Donnell, Aoife Nash Freeman, Hannah McGeever, Andrea Nolan, Orla O'Brien, Ciara O'Brien (0-2), Rachael Evans (capt, 1-0), Sophia Doherty, Meadhbh Johnston (2-4), Laura Leslie (0-1), Nicole Moriarty (0-2), Fodhla Houlihan (5-5, 1 pen, 2f), Alanna O'Sullivan.  Subs: Olivia Moriarty for McGeever, Kayleigh McGlashan for O'Sullivan, Áine Nash Freeman for Leslie.